Pet Hair Cleaning
Back To Our Services
Do you keep a dog or cat in the house and are tired of picking up hairs after them? If you have a professional pet hair cleaning service on a regular basis, you won't have to worry so much about cleaning pet hair day by day. Many pet owners have a professional clean and hair removal right before an important visit or hosting an event at home. We use a range of industrial grade vacuums and extractors to pull out strands and collections of hair that you wouldn't be able to get with a standard vacuum or brush. We can ensure your upholstery is as clean as possible without causing any type of harm to surfaces or materials.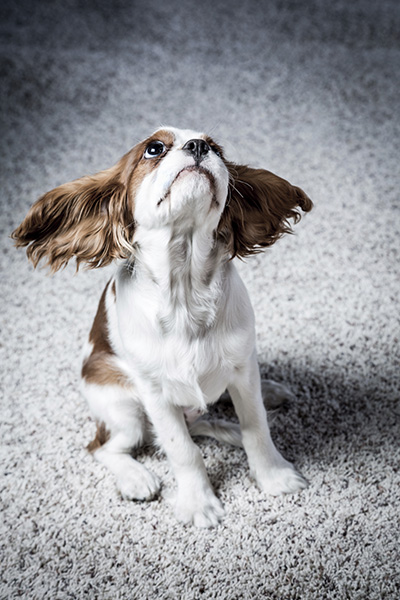 Difficulties Cleaning Pet Hair
The main issue with most types of pet hair is that it gets everywhere. Most synthetic materials act like a magnet with hairs due to collected friction. Having any amount of hair on your couch can be embarrassing because it will have a tendency to rub off on your back while you sit. Guest and other users of the couch will also get this effect. The strands can then embed themselves into rugs blankets and cushions, which can make them quite uncomfortable to touch. We clean pet hair with methods that aim to remove the vast majority of buildup. Due to its nature, this kind of hair can never be removed entirely. The most important thing can be to have a clean that is simply as effective as possible. Older animals tend to shed more hair on a daily basis. If you've had your dog or cat for several years, you may have noticed how much more they seem to be malting now compared to when you first got them. Your cleaning work load may have been more than doubled over the last few years. We can help by ensuring the vast majority of the hair is picked up efficiently.
Professional Cleaning Services
If hair mass is left too long and builds up significantly, your pieces of furniture can begin to seem quite unusable. Avoid having to buy new ones by letting our experts perform a hugely successful hair removal clean for you. We can make sure you carpets and all upholstered surfaces are as hair free as they possibly can be. All of our methods have been thoroughly tried and tested to ensure they are effective as well as perfectly safe and non-destructive.